GBPUSD "Cable" - 22 August 2023
You will come across specific terms in these notes (FLD, VTL, and so on). Rather than explain them each time, you will find definitions here: guidance notes for Hurst cycles terminology  
GBPUSD - 20 week cycle turning up out of trough?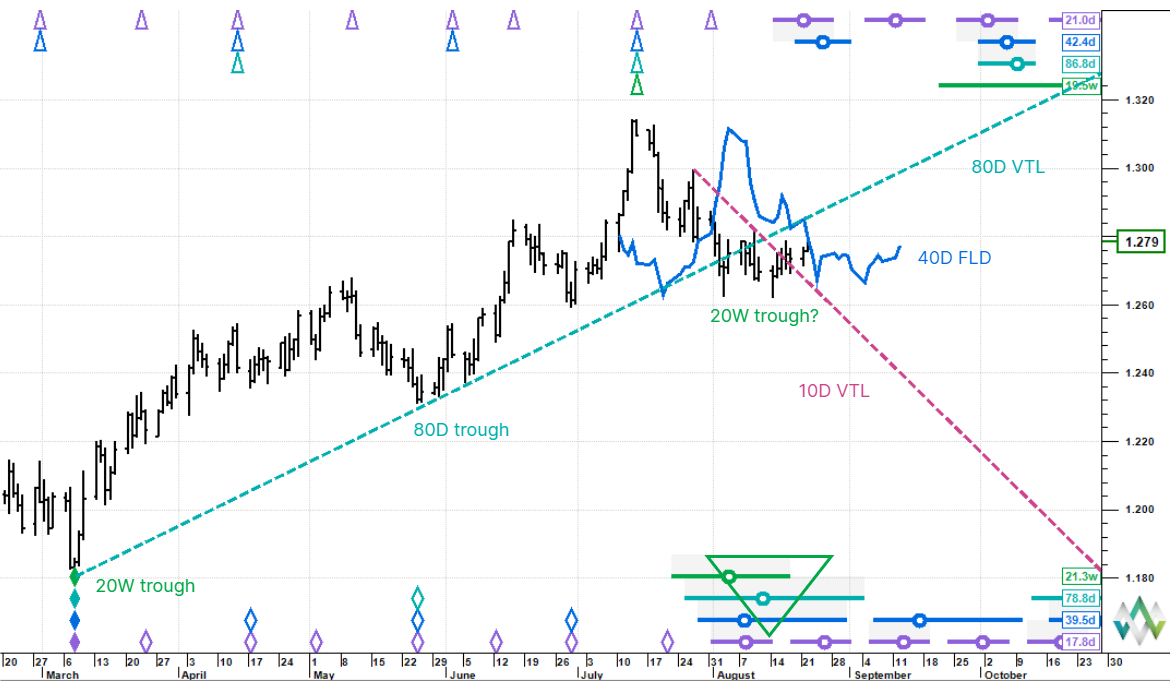 This call is not yet fully confirmed but is worth being aware of.  It is a potentially risk on signal if, for instance the S&P 500 E-minis fall further before recovery out of their 40 week cycle low.  
Price has started to stall out in a clear 20 week cycle nest of lows (green triangle at bottom of the chart up to 20 week cycle degree).  A down-sloping 10 day VTL has been crossed up decisively which at the minimum means that a 20 day cycle trough has just formed.  The 20 week cycle trough naturally contains a 20 day trough, but the question is: is this 20 day cycle part of the new 20 week cycle or part of the old 20 week cycle?  Also, at the bottom of the chart, the right wick of the light blue 80 day cycle trough circle extends to month end, so the phasing of this cycle isn't decisive yet.  The takeaway is that the actual trough could be further out in time.
Importantly price is still below trend as defined by the up sloping 80 day VTL and this could very well be the retest up to that resistance level and then back down - we have to keep that on the table.  The 40 day FLD is being tested aggressively, but even if we get clearance to the upside, the projection is not much beyond that trendline.  In other words, despite the apparently bullish set up, we could still easily turn around and drop to find the real 20 week cycle low.  
So in summary, stay alert and if we see a decisive bullish break of the 80 day VTL assume its dollar down and risk on.  But don't be too surprised if the whole thing just pivots and drops.