FTSE 100 Index longer term roadmap - 22 May 2023
You will come across specific terms in these notes (FLD, VTL, and so on). Rather than explain them each time, you will find definitions here: guidance notes for Hurst cycles terminology  
FTSE 100 - big picture:  potentially sitting on the edge of a big drop.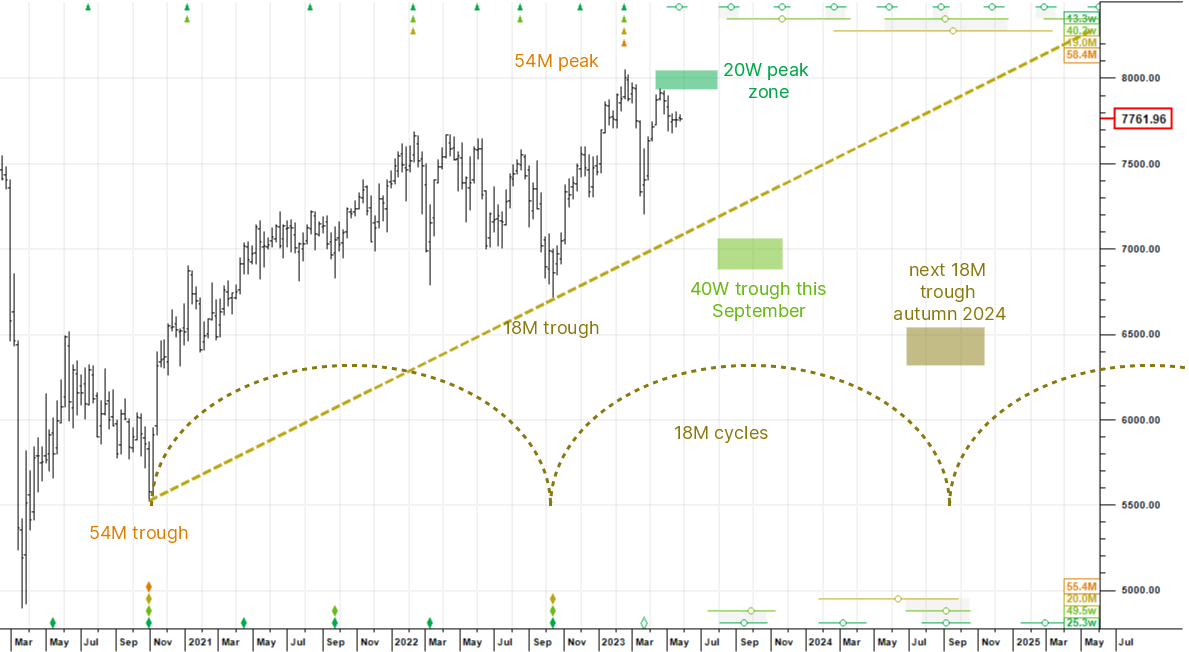 54 month cycle has peaked.
The 54 month cycle trough did not come in at the Covid crash low in March 2020, but rather it was displaced forward to November despite this price low being higher.  The cycle periods were disrupted by the fundamental shock and only found their natural cadence later.  We have seen this across many instruments.
There are three 18 month cycles in a 54 month cycle and the first 18 month trough is clear in October 2022.  The fast rally that ensued took price through the peak of the 54 month cycle which was the big top at the end of February this year.  This implies that the longest cycle we look at is now heading down.

The next big aiming point is the 40 week cycle trough due after the summer and potentially 800 points-ish lower.  The next 18 month cycle trough is not due until autumn 2024, potentially below 6,500.  This is a weekly chart analysis, so don't be surprised by near term noise (including a counter-trend bounce in the 80 day cycle whose trough is due towards end June).  Near term and long term however, the outlook is down.