Nasdaq 100 (QQQ) - intermediate term view
You will come across specific terms in these notes (FLD, VTL, and so on). Rather than explain them each time, you will find definitions here: guidance notes for Hurst cycles terminology  
QQQ - approaching 18 month cycle peak zone.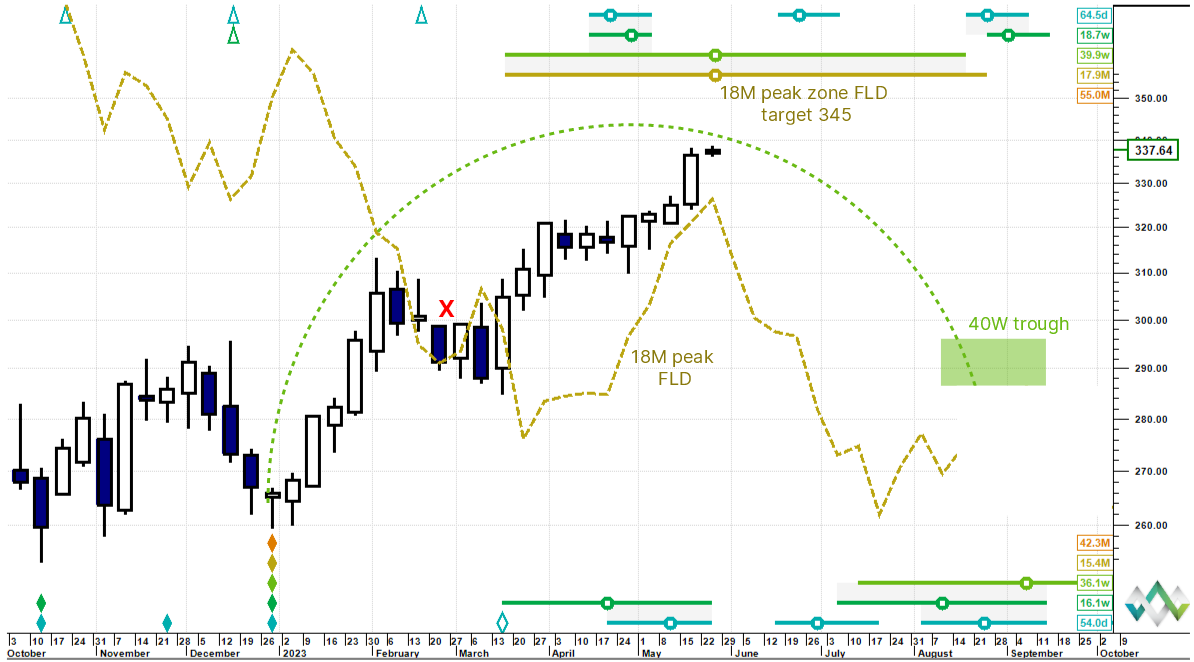 Approaching 18 month cycle peak.
Weekly candle chart.  An 18 month cycle bottomed at the end of last year and our analysis points to this also being a 54 month cycle trough - which is the reason the advance has been so strong.  However, with that said price is approaching the timezone for an 18 month cycle peak.  
An 18 month cycle peak-based FLD was crossed up by price in February/March. Although its an indistinct straddled cross, it generated an upside projection circa 345 - which is just a little higher.  Now because a rising 54 month cycle is behind the 18 month cycle and we are not due a peak in the longer cycle yet, it is reasonable to expect an upside extension and for now 350 has merit, based on some other cyclic tools we have used but not shown.
The 18 month cycle peak contains the 40 week cycle peak as well and the arc of this cycle has plotted to its trough around late August.  We are expecting a drop to between 290 and 300 by this time, once the current upswing matures into its peak.