Palladium - 16 August 2023
You will come across specific terms in these notes (FLD, VTL, and so on). Rather than explain them each time, you will find definitions here: guidance notes for Hurst cycles terminology  
Palladium - risk around ostensible 18 month cycle trough.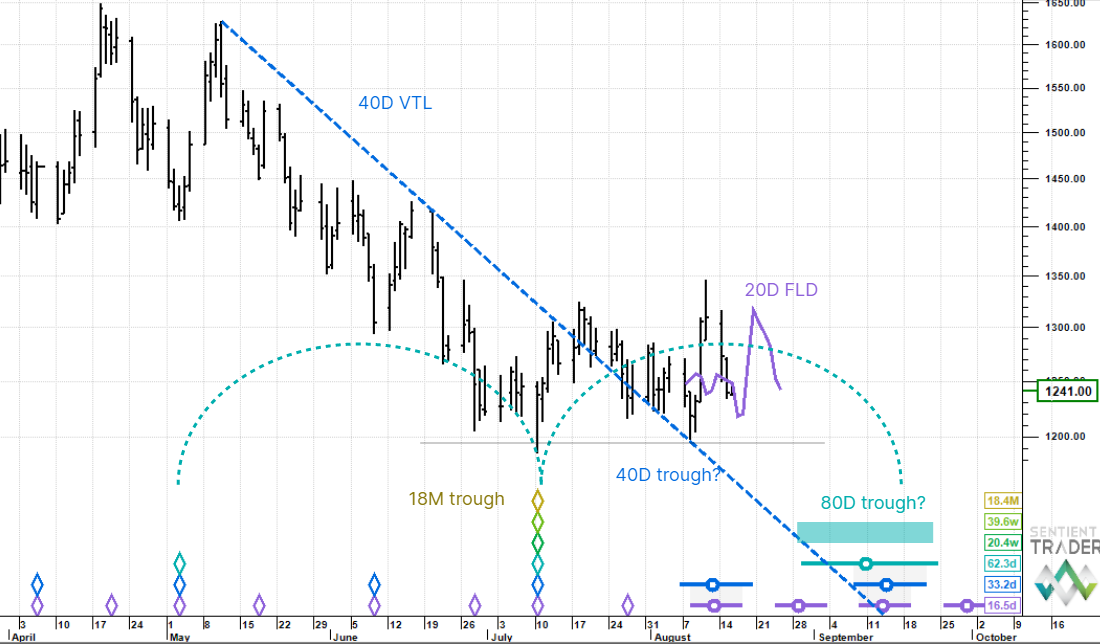 18 month cycle may have bottomed, but caution.
The July low has been phased as a tentative 18 month cycle trough and we are looking at the first 80 day cycle out of this.  Typically we associate such a long cycle trough with a significant move higher.  However, this is not always the case and when such a cycle peaks early it is typically quite bearish.  
If price breaks below 1,185 (the ostensible 18 month cycle trough price low), then we should consider a bearish scenario, after all it suggests that the 18 month cycle has peaked and is falling.  At this stage a case can be made for this bearish scenario to play out.  The 40 day cycle looks to have bottomed and then quickly peaked and then crashed again.  
Price is currently testing the 20 day FLD and a clean break here puts us falling into an 80 day cycle trough due in the second weak of September and below 1,100.  We would be expect to see a muted reaction higher but then a continuation lower with the likelihood that troughs come in late and lead to weak rallies and quick failures going forward.