Thank you to everyone who gave feedback for our survey at the end of February. The survey questions were wide ranging to help us get the best sense of how to improve the Hurst Cycles Notes service.  
The first question was what newsletter you would be interested in seeing next as well as Macro Outlook.
What will the next newsletter be?
The results were as follows and the stand out with nearly 70% of the subscriber base asking for it was US Sectors.  We think this is a great choice as well and are currently building the analyses out for the new launch, which will be on 10 March. The note is to be published every Friday before the US open.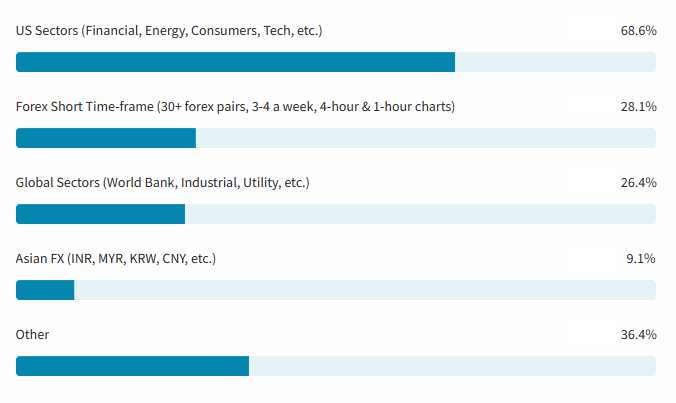 The US Sectors offering will use 11 SPDR ETFs:  
- Homebuilders (XHB),
- Materials (XLB),
- Communications (XLC),
- Energy (XLE),
- Financials (XLF),
- Industrials (XLI),
- Technology (XLK),
- Consumer Staples (XLP),
- Utilities (XLU),
- Healthcare (XLV) and
- Consumer Discretionary (XLY).  
We may not cover every sector every week, because some weeks a full analysis will be less appropriate.   However, we will also mix it up a bit by analysing a sector relative to the S&P 500 Index, occasionally dip into specific stocks within the sectors, and provide longer term views where we think it would help.
What were some other requests?
Over a third of you had suggestions for other instruments, which combined with your feedback about the newsletter style, has made us look at some improvements to the Macro Outlook newsletter.
You said you wanted more macro instruments
Instead of focusing exclusively on the 9 core assets currently in Macro Outlook week-in week-out (namely: Dollar, Gold, Copper, WTI Oil, USDJPY, EURUSD, S&P500 E-minis, Nikkei futures and Bitcoin), we plan to draw on a wider list of 100 instruments to rotate in and out of the weekly note.  This big list includes many more equity and commodity futures, as well as currencies, sovereign bonds and spreads.
Due to popular demand it is very likely that S&P500 E-minis, Oil and Bitcoin will always be in the core list.
Analysis when appropriate, not just maintenance
At times there may be little material change in an asset's cycle status from week to week.  Instead of just providing a maintenance service and sending a "no change" note next week, we will switch over to another asset that offers a better opportunity.  
It might also be that a particular instrument becomes muddled and we have no clear stance, in which case we will mention in the Matrix Overview but move on to something better.  
More specific target and validation levels
You wanted us to be clearer about targets' time and price location (namely, the next peak or trough for the cycle of interest at the time) and to point more precisely to validation levels (upcoming FLD or VTL price and time location and implications).   We will be adding more text to the charts and direction arrows red/down and green/up.
Other stuff
More charts per note (for example daily and weekly charts) - we will continue focusing on the 20, 40 and 80 day cycle arcs in the notes, but add an extra chart to the Long Term Analysis section of the website and provide a link.
Uncluttered versus highly involved, analytical charts -  we will continue to strive to say just as much as is required to make the case and no more.  Sometimes a very plain and clear analysis with few workings out will frustrate dyed-in-the-wool Hurst specialists who want it all; sometimes a highly sophisticated view will confuse those newer to Hurst cycles.  We will find the balance to make the case.
PDF version of the notes - we don't plan on doing this any time soon.
Composite model line on every chart - where this synthetic composite cycles line provides a succinct analysis we will add, where it is redundant we will omit.
Short additional summary video link per note - we are considering this, its a good idea but resource intensive.
Telegram or WhatsApp private channel for additional distribution - its a nice idea - we are looking at it.
Looking ahead
We believe that the notes will be much improved going forward and as always we welcome your feedback.  Thank you to those who provided testimonials - feel free to send us your testimonial if you haven't yet. They help us grow and pull in new resources, which in turn helps us add more markets and provide more services.