Macro bond update: US 10 year yield limited upside - 4 August 2023
You will come across specific terms in these notes (FLD, VTL, and so on). Rather than explain them each time, you will find definitions here: guidance notes for Hurst cycles terminology  
US Ten Year Yield - 20 week peak zone.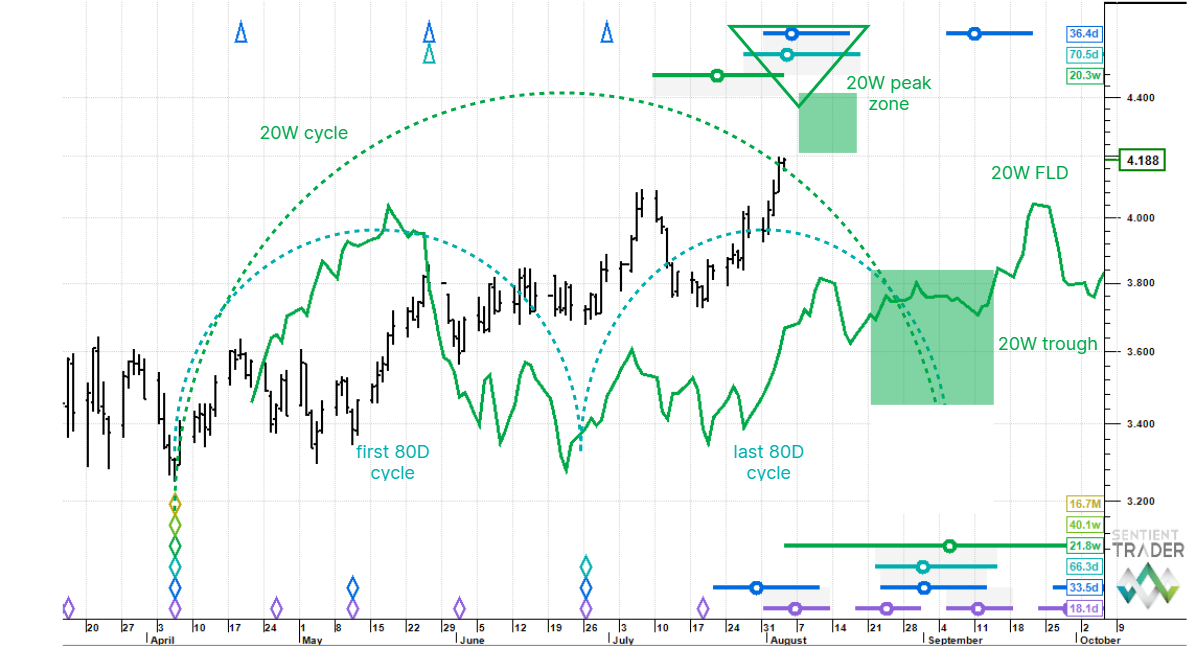 The US Ten Year yield is in a 20 week cycle peak zone and upside is limited. Looking at nest-of-highs triangle at the top of the chart the light blue 80 day cycle whisker extends to 19 August, which we can assume is also the outer time limit of the 20 week cycle peak (the 80 day peak is contained within the 20 week peak).  
In terms of price target, the 20 week cycle FLD was crossed up by price at the end of May and projects to 4.35 - 4.45.  Note also that the April low was a much longer 18 month cycle trough and it is feasible we see something of an extension to the 20 week cycle peak projection, but likely not by much. Once the 20 week cycle has topped after mid August, the 20 week cycle trough due from the end of August to potentially mid-September should start dragging price lower. For now the target zone is wide, between 3.4 and 3.8, but we should be able to zero in on this nearer the time.