US Dollar Index - 28 April 2023
Dollar Index - first upside trigger level for more upside to hand.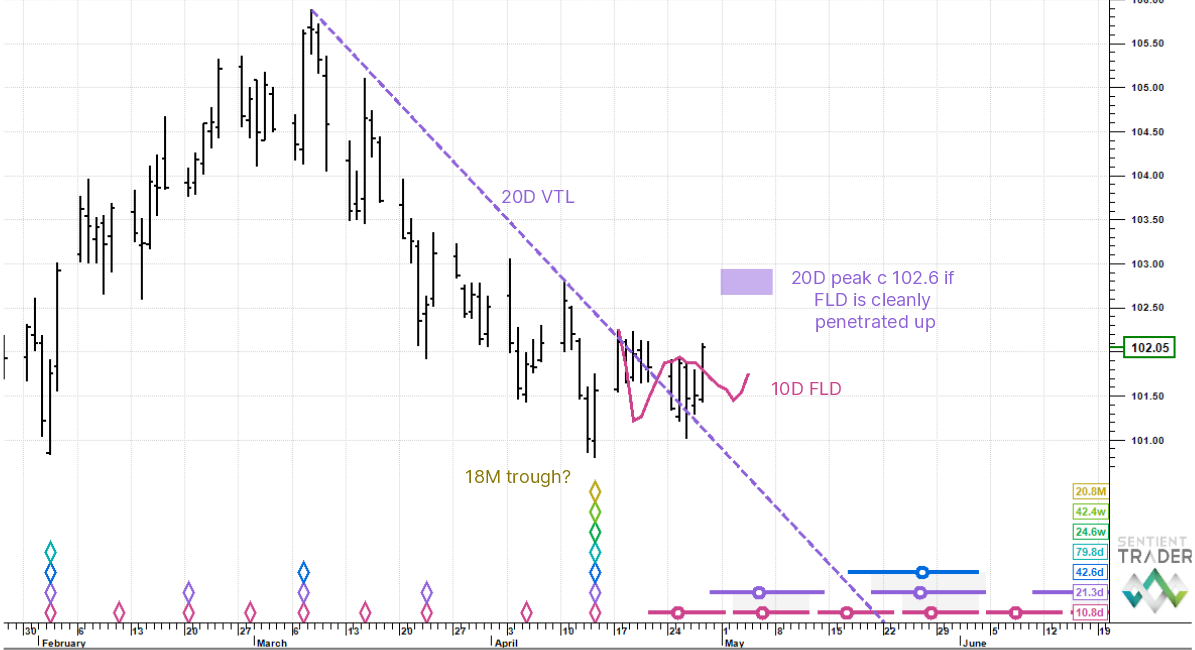 Current stance - the recent big low has been phased as an 18 month cycle trough, and evidence for this may be building.

To recap Monday's Macro Outlook note on the US Dollar: the early February low could be the 18 month cycle trough, or that trough could be placed in mid April (as is shown in the chart above). We needed the 20 day FLD to be penetrated up by price to start the process of confirmation.  This latter trigger seems to be happening now.
It could indeed be that the February low was only an 80 day cycle trough and not that of an 18 month cycle, but either way near term risk would skew to the upside, just not reach as high.  That doesn't need to concern us for now.

I have plotted a 10 day FLD and we need to see median price cross up through it to make a projection.  We are pretty much there right now.  This would give an upside projection into the first subdivision higher, the 10 day cycle peak which should correspond to the 20 day cycle peak circa 102.6.  
---
The US Dollar is important to understanding market movements around the word. It is covered in our weekly Macro Outlook newsletter, published every Monday.
Take a 7-day free trial and gain access to the full of archive for 7 days.