Forex corner: AUDNZD - 16 March 2023
You will come across specific terms in these notes (FLD, VTL, and so on). Rather than explain them each time, you will find definitions here: guidance notes for Hurst cycles terminology  
AUDNZD - May be passing through 80 day cycle trough. Looking for upside trigger to circa 1.09.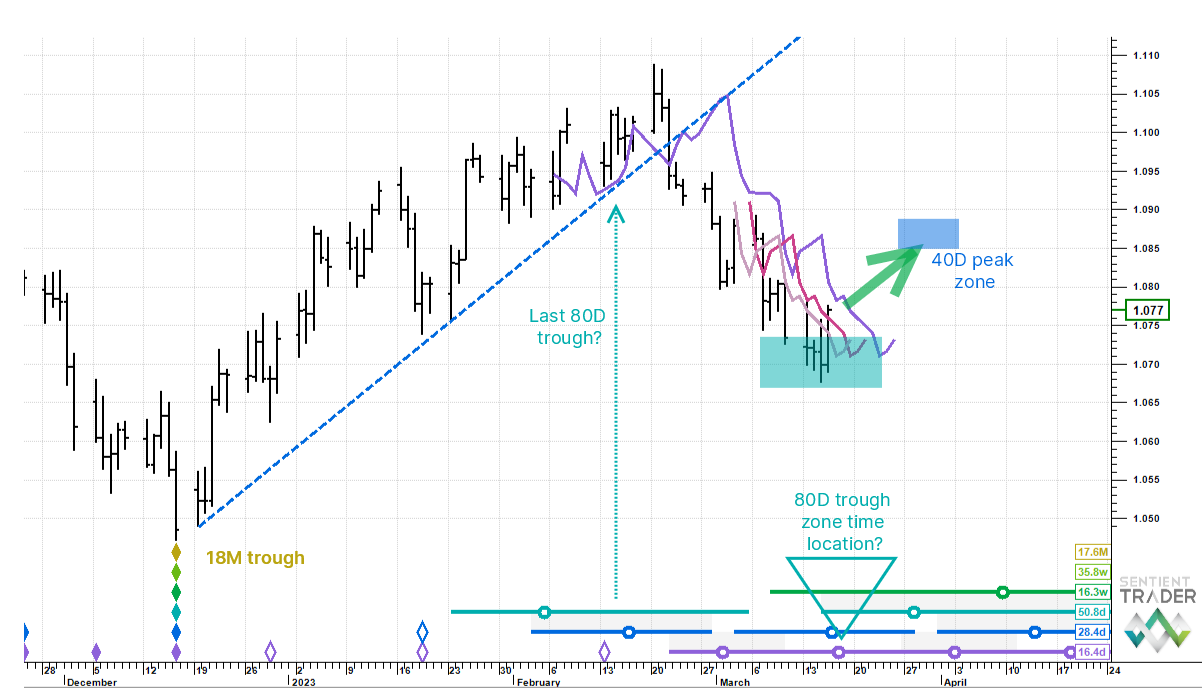 The trough phasing circles and whiskers are a little scattered, but price looks to be emerging out of an 80 day cycle trough zone. There is the possibility that the 80 day trough was "straddled" in February (shown with a dotted arrow on the chart), but the analysis we prefer is that it is emerging now out of a late 80 day cycle trough.
Notice the three FLDs stacked in parallel above the last part of the prior move down.  This cascade pattern serves to suck price into it with each FLD cross projecting higher through the next FLD.  Remember that median price needs to cross the FLD to make the projection higher safer.
The closest FLD is the 5 day, then the 10 day and then the outermost purple 20 day FLD.  At this stage median price has crossed none, but the 20 day FLD is currently around 1.078 which if crossed up projects to at least 1.088.  
When this happens the troughs will firm up into diamonds and we can say the 80 day trough is in, with near term more bullish implications.