Link to guidance notes for Hurst cycles terminology: FLD, VTL, Translation, Diamonds, Circles/Whiskers etc.  Note: peak and trough zones colour coded by cycle magnitude, from 20 day to 18 month.
Close to 80 day cycle nest of lows, but anticipated bounce expected to be countertrend and then back down into long cycle trough due mid-February.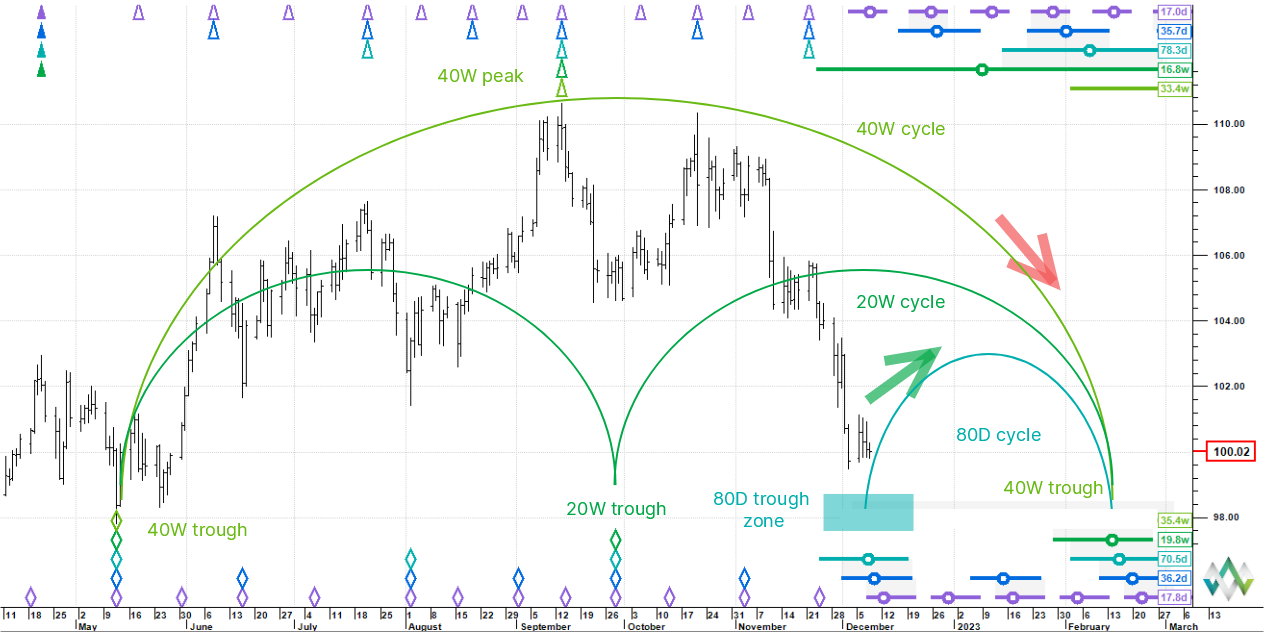 Bigger picture a 40 week cycle bottomed back in May and is now 30 weeks along its expected wavelength of 35 weeks.  In other words the status is hard down. Similarly, the current 20 week cycle that kicked off at the end of September looks to be heavily left translated carrying bearish overtones. The implication is that any shorter cycles advancing into this combined downdraft will struggle to gain much height.  And on that note price is right now in the 80 day cycle trough zone and an upside reversal is due imminently.  There could yet be a little more downside, but basically we are in the zone.
And so the road-map is as follows:  the 80 day cycle bottoms shortly, advances and then gets squashed by the falling longer cycles mentioned above.  Broadly speaking we will be tracking the 80 day cycle up into the beginning of 2023 and then start looking for a meaningful drop into the looming 40 week cycle trough expected mid-February.  We are waiting for upside price crosses of the shorter cycle FLDs out of the coming 80 day cycle trough to start zeroing in on the cycle's peak zone.