Dollar Index bottoming? - 21 November 2022
(abstracted from 21 November Macro outlook)
Reminder of last week's view: we were stalking a significant cycle trough to occur during the week. As anticipated, this may now have started forming.
This week's outlook: expecting the trough to be in place and an upside rotation to start from this week. Waiting for confirmation, which if comes, will materially skew risk to the upside.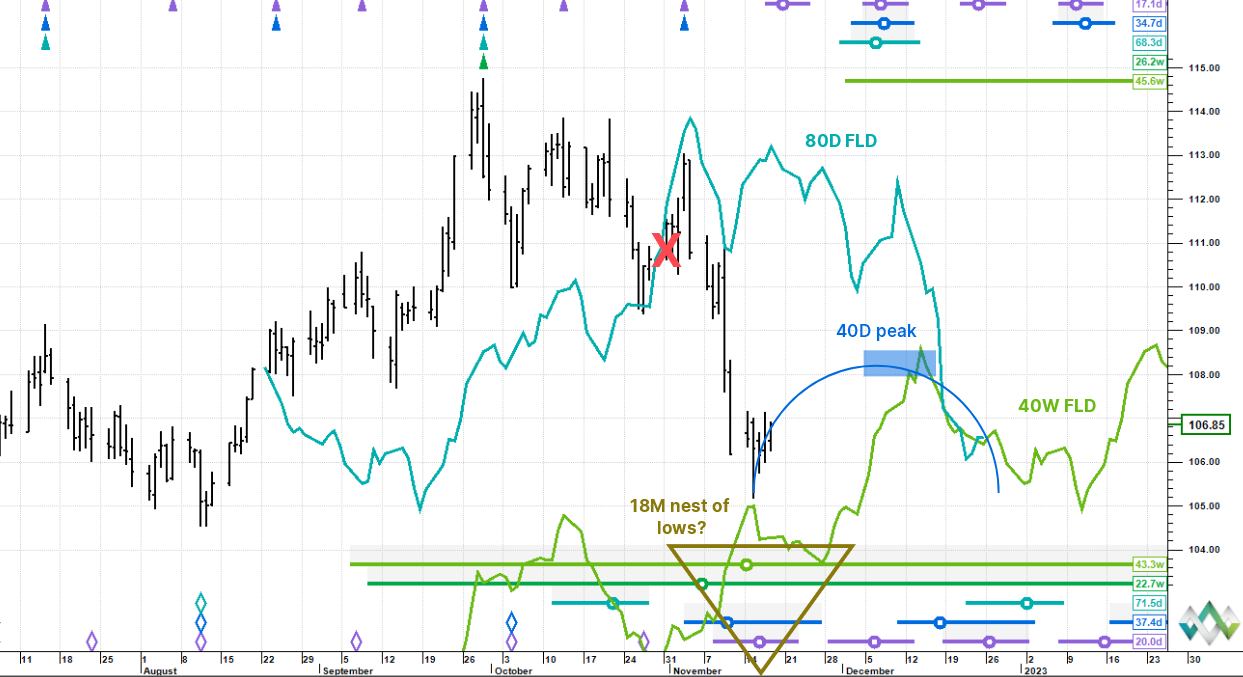 Analysis:  I have plotted two FLDs, one for the 80 day cycle (blue) and the other for the 40 week cycle (green). The downside price cross of the 80 day FLD on 30 October (X) tells us two things: (1) a downside projection of 106.7 (the close at the 15 November was 106.3 and potentially a capitulation day); (2) it confirmed the 29 September peak as that of at least the 80 day cycle.  The implication, therefore, is that price is very likely in at the minimum an 80 day cycle trough zone right now, which is bullish.  

Additionally, price pretty much landed on the 40 week FLD, which could represent high magnitude cycle trough support.  Thus, we are looking for at least an 80 day cycle and possibly even a 40 week cycle to trough around now.  Once the turn is in, the next upside aiming point would be the 40 day cycle peak due in the first or second week of December.

Key levels to watch:  circa 107.3 is the ceiling of the mini base-zone that looks to be forming and we need a close above that level to confirm. Conversely, a break below 105.3 would force a rethink - this however is not the preferred view.