STOXX Long view update - 29 November 2022
Link to guidance notes for Hurst cycles terminology: FLD, VTL, Translation, Diamonds, Circles/Whiskers etc.  Note: peak and trough zones colour coded by cycle magnitude, from 20 day to 18 month.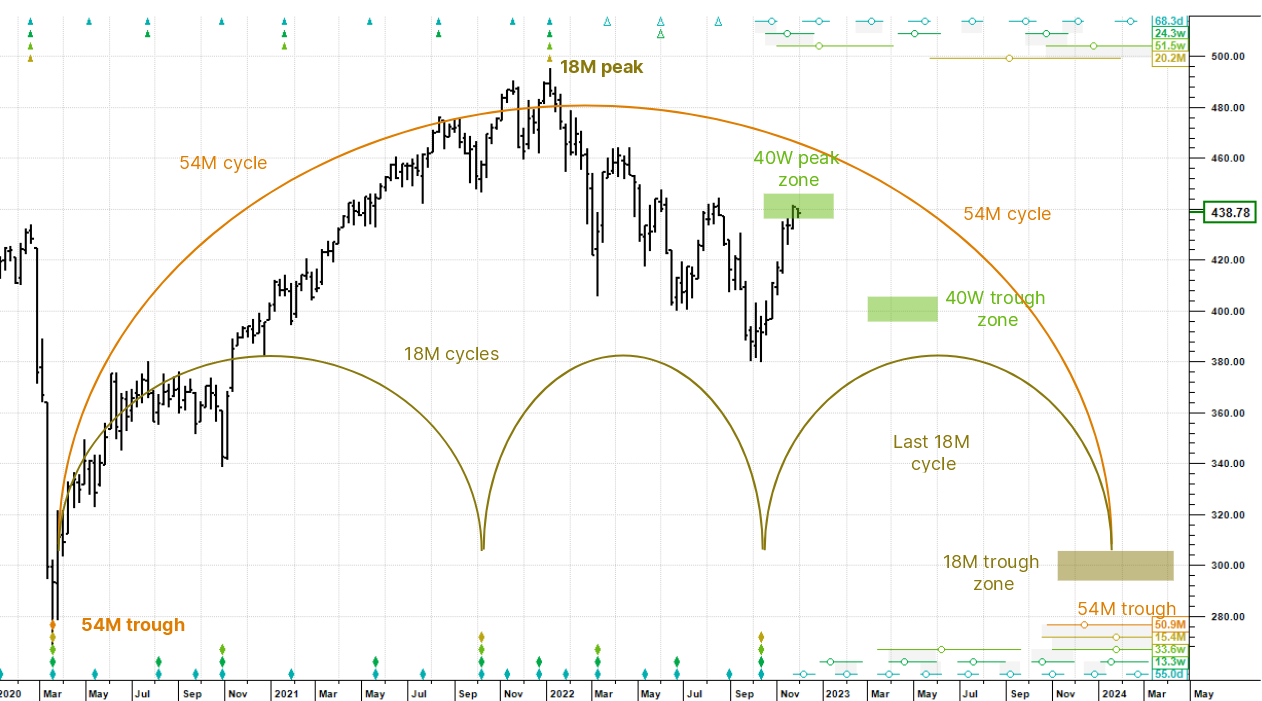 Analysis: the last 54 month cycle trough was March 2020 and the next is due at the end of 2023.  This is the so called Business Cycle and it consists of three 18 month cycles (and bear in mind that the usual harmonic ratio with adjacent magnitude cycles is 2:1 rather than 3:1 - the 54 month cycle for our purposes is unique).  
We are now in the last 18 month cycle of the longer set and its rotation fired up in mid-October.  Even though it has been rising strongly, it is fighting the head wind of the falling 54 month cycle which speaks to potential exhaustion. Once the current 18 month cycle turns down, the longer cycle becomes a tailwind and should result in a staggered descent across next year, characterised by swift declines, early peaks and struggling rallies - which could nevertheless be eminently tradeable on the long side.  

The 40 week cycle peak should be upon us shortly and the downswing of this cycle is due next Spring after a deep retracement.  We have a precis projection to current levels, but would not be overly surprised if price extends higher somewhat. The takeaway here is that we look to be in the zone.  Notice that the 54 month peak (marked 18M in the chart for brevity) is strongly left translated (peaked early) - this is long term bearish.